I made the first commute of spring on 3/27. I didn't realize how much I missed it. I haven't commuted as much as I would like due to the crazy weather we have had and the fact I just haven't been sleeping well (It's hard to get up at 4 am to ride in at when you only fell asleep the hour before.) and I've been sleeping up to 7am just so I can function at work at 8am.
I've done yet another improvement on the Monitor Pass.
I swapped out the twenty year old ODI grips to a set of "Ercon GC2" grips to help stave off hand numbness. I would like to say that they worked perfectly; however, this just isn't so. They did help somewhat and due to how they are shaped they act like mini bar ends as well. So I'll be keeping them. I might switch to North Road bars sometime on the near future.
I've also picked up yet another bike. I stumbled across an Entry Level '07 Specialized Sirrus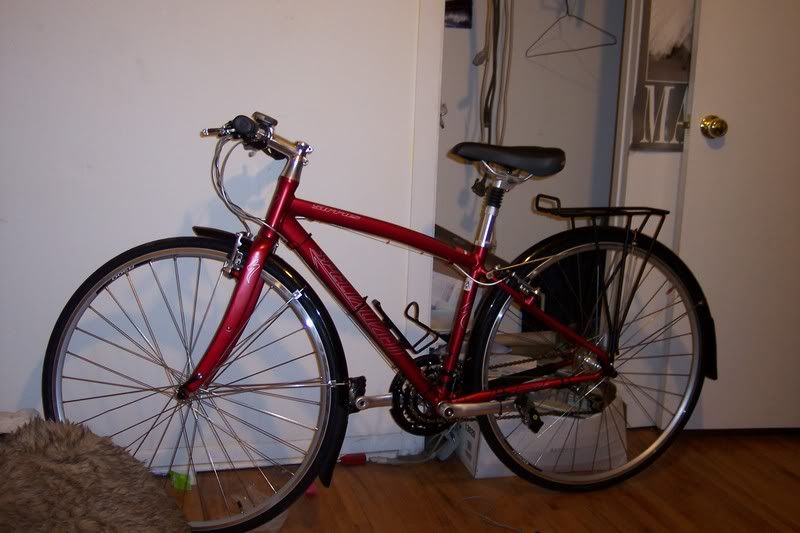 in my size on E-bay. I've always been bothered over longer distances with the low gearing of the Monitor Pass although I'm not in any danger of spinning out my largest gear combo. The bike feels like what it is.. An off road truck. Plus, a minor burr was that I'm Sirrus Rider, but I spend most of my time on a Monitor pass. Although my philosophy echos Joe Breeze's on wheel size. I'm willing to give 700C a try for the sake of higher gearing